22 December 2008
Amazon UK is listing a DVD of The Diary of Anne Frank for release on 12 January 2009. Here's the cover image.
17 December 2008
Thanks to Lissa for telling me that felicityjones.blogspot.com has an update on The Diary of Anne Frank. The five episodes beill be broadcast by the BBC on consecutive nights starting on 5 January 2009. There is a BBC press release at www.bbc.co.uk/pressoffice.
13 December 2008
I've just discovered a TV tie-in edition of The Diary of a Young Girl by Anne Frank is due to be published by Penguin on 1 January 2009. That means the broadcast of the new BBC adaptation of can't be far away.
9 December 2008
Felicity's 2007 series Cape Wrath is getting a repeat showing on E4 starting on the 12 December.
Anyone interested in Felicity's 2003 series Servants should check out the forum where clipper314 has posted a video of the opening credits, a clip from an episode and info on the series. Look in both the "Servants" and "videos" threads.
I have done a slight tweak to the page design. I like it.
26 November 2008
ITV3 are running a Jane Austen "season" next week. It seems to include ITV's own dramas and ties in with the broadcast of the Keira Knightley Pride & Prejudice movie. Northanger Abbey will be shown on ITV3 at 9pm on Friday 5 December and will be followed by the making-of "Jane Austen: Behind the Scenes" show.
5 November 2008
Felicity has been nominated for the Evening Standard Theater Awards. The category is The Milton Shulman Award for Outstanding Newcomer for her role in The Chalk Garden.
Thanks to Simon for sending in a link to a video interview with Fliss at the Brideshead Revisited premiere. The video is at video.google.com.
22 October 2008
www.starbulletin.com has the news that The Tempest starts filming in Hawaii next month.
8 October 2008
Various sites are reporting that Felicity has been cast in a new movie of Shakespeare's The Tempest. The movie will centre around Helen Mirren's Prospera, her daughter Miranda, played by Felicity, and a shipwrecked crew full of Prospera's enemies.
See www.guardian.co.uk and news.bbc.co.uk for more info.
5 October 2008
I've done a couple of scans of Felicity from the Culture section of last week's Sunday Times newspaper.
4 October 2008
Enrique has found a photo of Felicity from the Diary of Anne Frank in which Felicity plays Margot Frank. It looks like French TV is showing this on 7 October 2008.
Lots more about the program at programmes.france2.fr.
3 October 2008
A couple more Brideshead Revisited premiere links from Enrique:
1 October 2008
Thanks again to Enrique for sending in these Brideshead Revisited premiere photos.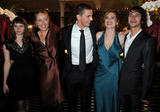 CREDIT Celebutopia
There's also a bonus gallery at www.guardian.co.uk
Lots more Fliss premiere goodies over at felicityjones.blogspot.com.
For what it's worth here's a link to my own brand-new blog: burstsofenthusiasm.blogspot.com.
I'm going to use it for all my infrequently updated pages. (FelicityFix will continue as normal!)
30 September 2008
Thanks to Enrique for sening in these Brideshead Revisited premiere links, both of which feature photos of Felicity.
There's an Emma Thompson article at www.mailonsunday.co.uk and a Fliss photo at www.daylife.com.
Enrique also sent some other links and I'll add them tomorrow.
29 September 2008
This treadawaytwins blog has a photo of Fliss from September 2008 Vogue UK.
27 September 2008
Big thanks to Tim for alerting me to a Felicity article in tomorrow's Sunday Times newspaper (September 28, 2008). The article is called Felicity Jones: Ambridge goes to Brideshead and (even though I'm typing this on Saturday night) it can be found online at entertainment.timesonline.co.uk.
Brideshead Revisited opens in the UK on 3 October 2008 so keep your eyes open for any Fliss content over the coming week.
The official UK site is at www.thefilmfactory.co.uk/brideshead.
14 August 2008
Nicky tells me that Felicity's new film Souled Out starts shooting next week in Stoke-on-Trent. The makers are looking extras! First of all here is the story:
1974. Power cuts, strikes and boot-boy aggro on the terraces. Flares,Chopper bikes and beer at fourteen pence a pint. JOE MCCAIN, 17 and restless, is bored with the flatline tedium of a life that seems like it´s going nowhere. Enter JANE, moving to the beat of a music that Joe´s never heard, a vision of loveliness who opens the door to a whole world of sound, movement and all-nighter dancing at The Wigan Casino - the home of Northern Soul! Swept along on this tide of pulsating dance and lust, Joe finally finds somewhere he belongs and the acceptance and true love he yearns for.
And here is the stuff about the extras:
SOULED OUT is an exciting independent feature film set during the Northern Soul scene of the seventies, shooting in Stoke-on-Trent this summer. We're seeking volunteer extras for a number of big scenes, some of which include dancing. The film's big club scenes take place between 18th August and 1st September, but we need extras and dancers for the whole shoot too. If you're based in Staffordshire or the surrounding area, available in August and September and would like the chance to be in the film, fill out your details in the form below. We'll be in touch!
Check out www.ipsofactofilms.com for more info.
Nicky also tells me that Felicity is in a Johnny Flynn video for Tickle Me Pink.
6 August 2008
It turns out that Northanger Abbey is being given away in TODAY's Daily Mail. If you don't have it already rush out to WH Smith or Tescos.
2 August 2008
Thanks to Sharona for sending in links to some high quality Felicity images.
First of all here are some Flashbacks of a Fool premiere photos.
And here are some photos from Felicity's episode of Doctor Who.
Flashbacks of a Fool will be out on UK DVD on 8 September 2008.
1 August 2008
Northanger Abbey for free! Sort of!
The Daily Mail newspaper in the UK is continuing to give away DVDs of period dramas. Mansfield Park 2007 will be in tomorrow's paper (2 August) and if I understand their schedule correctly Felicity's Northanger Abbey 2007 will be given away on Friday 8 August.
Details here: www.dailymail.co.uk
31 July 2008
Enrique sent in a link to a Fliss article at london.broadway.com
www.nytimes.com has a piece on The Chalk Garden with a photo of Fliss.
Brideshead Revisited
has opened in the USA so there are lots of reviews out there if you want to get searching. It opens in the UK later this year.
12 July 2008
Some more finds from Enrique. First of all here is a new photo from The Chalk Garden.
And here is a new photo from Brideshead Revisited.
Finally here is an old 2005 interview from www.guardian.co.uk.
2 July 2008
Felicity's episode of Doctor Who is out on DVD in the UK next Monday, 7 July. The DVD actually contains 4 episodes instead of the usual 3, so that's not bad value.
27 June 2008
I've created a new logo based on the photo from the Independent on Sunday. Let me know if you want the old one back!
Natasha send in a link to her Chalk Garden review at www.musicomh.com.
Amo found two Brideshead Revised photos that include Felicity at www.imdb.com and www.hayley-atwell.org.
Finally I've convinced myself that this is Felicity. Have a look at the photo on www.ulsterbride.com and let me know what you think. Is it her?
21 June 2008
A scan of Felicity from the Independent on Sunday (8 June) has turned up at moreconfuzzled.blogspot.com. And it's a nice one! Big thanks to the original scanner.
PS If anyone still has that paper and you don't want it I'll be glad to take it off your hands!
13 June 2008
Enrique found some new material about The Chalk Garden at www.dailymail.co.uk, www.officiallondontheatre.co.uk and arts.guardian.co.uk.
And here are some Fliss-flavoured photos...
11 June 2008
Thanks to Enrique who found some more Fliss articles.
Anyway, a generous nod of the head from the Whingers also goes to Felicity Jones who makes excellent work of what could be an intensely irritating Laurel. The role of the pert and absurdly bright 16-year-old (Jones is actually 24) is the kind that would normally have the Whingers reaching out to wring the character's neck but no such feelings here. The actress already has her own appreciation page [this one!] so the Whingers can take no credit for discovering her. Although we probably will one day.
Source: westendwhingers.wordpress.com
Prime examples, he [Andrew Davies] says, include Felicity Jones, who plays heroine Catherine Morland in Northanger Abbey. "Absolutely perfect," he pronounces. "I couldn't have imagined anything better. I could have sworn she was about 16. In fact, I didn't meet her until I'd already seen her audition tape and seen some rushes. And I'd sort of fallen in love with her as the character. And I was almost disappointed to find out that in real life she was much more sophisticated and intelligent and grown-up and educated, because it was just such a delightful performance."
Source: www.backstage.com
10 June 2008
On Sunday Felicity was in the Independent newspaper in relation to her part in The Chalk Garden. Here's the article. (If you have the actual paper please let me know if there was a photo or any other content.)
Close-Up: Felicity Jones
The young actor has her eyes on Hollywood but her feet in Ambridge
By Liz Hoggard Sunday, 8 June 2008
Felicity Jones's idol is Vivien Leigh: "She was so beautiful and had a look of wild abandon. I re-watched A Streetcar Named Desire and there's something so nutty about her that's great."
With her delicate, heart-shaped face and glossy dark hair, Jones, 24, is no slouch at doing pure and wild herself: in the £30m big-screen Brideshead Revisited she has just shot with Emma Thompson and Ben Whishaw, she plays Cordelia Flyte, who is, in Jones's words, "very sprightly and absolutely insane".
Jones, it should be said, is quite sane in person. Before an English degree at Oxford – "I'm glad I had that student time to be flippant about life" – she grew up in Birmingham, and started acting aged 11. (You might know her best as the voice of Emma Grundy in The Archers.) More recently she has shone in Andrew Davies' Northanger Abbey and as David Morrissey's daughter in Cape Wrath.
Brideshead ought to make Hollywood sit up and take notice, but like her co-star Whishaw, Jones is committed to theatre. She was in Polly Stenham's That Face at the Royal Court last year and now Donmar artistic director Michael Grandage has cast her in a revival of Enid Bagnold's dark comedy The Chalk Garden, as a wild 16-year-old whose life changes when a governess comes to the dysfunctional home she shares with her grandmother. "Laurel hasn't been given any boundaries; she's a bit of a zoo animal. It's nice to play someone on that cusp," says Jones. "There's something disastrously unhinged about her..."
'The Chalk Garden', Donmar Warehouse, London WC2 (0870 060 6624), to 2 August. 'Brideshead Revisited' will be released in the autumn
Source: www.independent.co.uk
Fliss also gets a mention in another Chalk Garden article.
Felicity Jones, who plays my granddaughter Laurel, is going to be a big star, of course she is. She is an intelligent girl and enchanting. Wonderful, so good and so ripe!
30 May 2008
Enrique found this photo of Felicity in The Chalk Garden.
Some info:
The Chalk Garden By Enid Bagnold
Cast: Steph Bramwell, Linda Broughton, Suzanne Burden, Jamie Glover, Felicity Jones, Clifford Rose, Margaret Tyzack, Penelope Wilton
Director: Michael Grandage; Designer: Peter McKintosh Lighting Designer: Paule Constable; Composer & Sound Designer: Adam Cork
5 June – 2 August Press night: Wednesday 11 June
The child's a flower. She grows in liberty.
Raised in a manor house beside the sea, where the flowers struggle to grow, sixteen-year-old Laurel (Felicity Jones) runs wild. As her eccentric grandmother tends to the garden, Laurel's need for love forces her into a world of fantasy. But things begin to change with the sudden appointment of a governess who brings a mysterious new presence to an already dysfunctional household.
The Chalk Garden was first staged in London at the Theatre Royal Haymarket in 1956 – John Gielgud directed Edith Evans and Peggy Ashcroft. The garden of the play was inspired by Bagnold's own garden at North End House in Rottingdean.
Source: www.donmarwarehouse.com
28 May 2008
Enrique found some set photos of Felicity's new movie Cheri at www.purepeople.com. Here they are...
14 May 2008
Yesterday I spotted that issue of Nylon in WH Smith's so I picked up a copy. Here's my scan of the Fliss content. It's less than a full page. Also thanks to Coryn for emailing in his sighting of the mag.
Also yesterday I bought the new Radio Times. Here's the Doctor Who article.
Finally www.dailymail.co.uk has a piece on the new Brideshead Revisited.
10 May 2008
A Fliss-free poster of Brideshead Revisited has appeared on www.impawards.com.
felicityjones.blogspot.com has a photo of Fliss from the May 2008 issue of Nylon.
Remember that Felicity will be in Doctor Who next Saturday, 17 May.
4 May 2008
The Brideshead Revisited trailer is now available on www.youtube.com. I didn't spot Fliss. Maybe you'll have better luck!
25 April 2008
Enrique sent in links to three new Fliss wallspaper in his blog at evidenciasdelmal.blogspot.com. There are also two photo manipulations here
18 April 2008
Lots more Fliss goodies from Enrique. Firstly fliss appears in the center pages of today's Daily Mail newspaper in the UK. You can read the article at www.dailymail.co.uk and gaze at a photo of Fliss. The article has the following news:
Stephen Frears has just cast her alongside Michelle Pfeiffer, Kathy Bates and Rupert Friend in his film Cheri.
It also mentions her upcoming theater role in "drawing room comedy" The Chalk Garden running from June 5. (Tim also let me know about this via www.whatsonstage.com.)
Premiere photos at www.marieclaire.co.uk and www.exposay.com.
Late last night on Channel 4 there was one of those "Edith Bowman At The Movie Premiere" things about Flashbacks of a Fool. (I think I spotted Fliss in a bumper car!) Those things usually get quite a few repeat showings so keep your eyes open.
16 April 2008
There's an interview with Fliss at wwww.indielondon.co.uk.
15 April 2008
Last Sunday saw the premiere of Flashbacks of a Fool and as a result there is a good amount of Felicity content for us to work through. Many thanks to Enrique for sending me all the links below. (Consider it 'Flissmas Day'!)
Doctor Who, except I don't think she was in that episode. If you know any differently then please get in touch!
2 April 2008
I spotted another photo of felicity in the Radio Times so I've also scanned that...
1 April 2008
No, not an April fool. I've just bought the new Radio Times and have scanned in a photo of Fliss in the new series of Doctor Who...
As you can see her episode is number seven, so that'll be six weeks from next Saturday.
27 March 2008
Enrique found a competition for tickets for the Flashbacks of a Fool world premier at www.empireonline.com.
12 March 2008
The Flashbacks of a Fool trailer and some info on the movie can be found on www.itv.com. Lots of Felicity in the trailer I am happy to say. The trailer is also on youtube.
Big thanks to Enrique.
29 February 2008
Simon let me know about a story on www.thestage.co.uk about a possible THAT FACE (Felicity's play from last year) transferral to the West End. It is not confirmed if Felicity will return.
22 February 2008
The April issue of Total Film magazine has a piece on Flashbacks of a Fool, including an upside-down photo of our Felicity. The movie opens on 18 April. Here's the photo:
8 February 2008
Big thanks to Enrique for both of these finds.
First of all Felicity appears in the current issue of the Radio Times magazine. She was at their "cover party". If you will recall she was on the cover of the Radio Times a year ago when the Jane Austen season was about to begin on ITV. And I was largely prompted by that cover to start this page.
Anyhow, here's Felicity looking totally adorable.
See also www.radiotimes.com.
Enrique also found these two photos that appear to be similar to the photo that appeared in Arena magazine this time last year.
12 January 2008
Thanks to Derek for sending me this link. PBS in America are broadcasting adaptations of all six Jane Austen books. Northanger Abbey is of course the 2007 version with our Felicity. They seem to be starting on 13 January. Check out www.pbs.org.
3 January 2008
Here's some quite big news for 2008. According to a couple of reports Felicity could be the new Doctor Who companion at some future point. See www.thisisnorthscotland.co.uk and www.digitalspy.co.uk. Both reports give the Daily Star newspaper as the source so you can take things with the usual tabloid pinch of salt.
Former Doctor Who star Peter Davison's daughter Georgia Moffett is reportedly in the running to play the Time Lord's new companion.
Moffet's casting for a key part in the upcoming fourth season was announced in December, but the Daily Star claims that she may become a regular in the Tardis for the fifth season in 2010
However, according to the report she will have to fend off a challenge from 23-year-old actress Felicity Jones for the coveted companion role. Jones, who will also feature in the next season of Doctor Who in an episode revolving around Agatha Christie, is best known for her parts in The Worst Witch and Cape Wrath, alongside her role as Emma Grundy in long-running radio soap The Archers.
"Several names are in the frame," a source told the tabloid, "but Georgia and Felicity are currently on top of the shortlist - both have their merits."
Source: www.digitalspy.co.uk
At least it confirms that Felicity is in the "episode revolving around Agatha Christie".
Interesting!