13 July 11
I don't know why, but I generally get more comments by email than I do on the boards. Not that I'm unhappy with this. I don't even know if it's unusual. Maybe, with this site being structured more like, well, a web-site, than a regular blog, the prominence of the contact form makes it easier or somehow more inviting. Even odder is that fact that virtually all the comments disagreeing with me are mailed. Whatever, I'm happy, as I said, to communicate in any way readers might feel the most comfortable. Hell, send smoke signals if you like.
For the most part these emails are good natured, even if they express disagreement. I've only ever had three—well four now, but we'll get to that—that I actually found obnoxious. One was from a Brit who decided—on the grounds of a piece I wrote about some Americans' rather nationalistic view of what 'freedom of speech' means—that I must be anti- all things American, and wrote to 'agree' with me using terms that, if 'American' was a race, she'd have made apartheid-era South Africa look liberal. The other two were, well not death threats per se. Call them 'extremely enthusiastic wishes for my immediate demise'. Both from Catholics regarding my little rant about the Pope's visit. Ah, those good old Christian virtues.
Anyway; the fourth obnoxious mail that I mentioned…
I have to admit that at first I thought it was a Poe. No one, I thought, could be dim enough to write such a thing and mean it. So I mailed back, thanking the sender—who will be henceforth known as Fred Uckwit—for the time and trouble he'd put into the joke. I even added a lol or two and a smiley face, to show I got the joke. I can't quote what I got back, as I have a policy of private mail being private, but I can only describe it as a diatribe. Really, the wall of hate-filled text would put your most rabid teabagging, Sarah Palin worshipping, Bible thumping, Muslim hating, ghey bashing fundy to shame. It truly was a sight to behold. Frankly my gob has never been so smacked. The thud of my jaw hitting the floor probably registered on the Richter Scale. (By the way, has anyone ever seen a Richter Scale turn into a Richter Feather? No? Thought not. Checkmate, evil-utionists!)
And what was the subject of this rant?
Spelling.
Yes, really. Spelling.
Fred Uckwit has, by the looks of it, trawled through my entire site picking out spelling mistakes.
Now, I have no problem with having typos and spelling mistakes pointed out to me. There are, though, I'd suggest, appropriate levels of annoyance one should experience when one comes across them, and I'd further sugest that if they annoy someone to the extreme that they annoy Fred Uckwit, then that someone clearly needs medical attention. It's not normal, it's not healthy and it shirly can't be any fun! Take my advice, Fred Uckwit, and seek medical help. Also, disconnect your computer from the internet. There's lots worse out there than a few typos, and I hate to think what it'll do to you when you discover this fact at first hand.
Oh, and here's a much better way to suggest corrections. From Rustiguzzi, in a recent comment right here on this site:
One minor quibble: that concluding quotation should have read 'Gott mit uns' but one of the t's moved from its rightful place onto the word next door. Keep an eye on those pesky letters, keep 'em in their place is what I say.
Note the lack of hair-tearing ire. Note the presence of a sense of humour. Note the lack of trying to make it sound like I'd sent twenty million people to the gulag, led GW Bush by the hand to the Whitehouse, and personally overseen the bombings of Coventry, London, Dresden and Hiroshima. Oh, I eat babies too. Raw. Without salt. I also invented Christian rock. Yes, I'm that nasty. I am Bad Spellinator! Kneel, weak and tremulous mortals! Pay homage or die!
Ahem.
Here's the really good bit, though.
Ninety-nine percent of my apparent spelling 'mistakes' weren't mistakes at all. They were UK variants.
What cracks me up is that, given the extensivity of Fred Uckwit's search for the evil typo, he must have come across phrases such as 'here in the UK' and other references to me being of the British persuasion. One article, in fact, is partly about differences between US and UK spellings! The only conclusion I can take from all this is that Fred Uckwit must have a talent that many proof-readers would give up their left arms for. He can, apparently, choose to read the words as self-contained units, whilst ignoring the meaning of the phrases and sentences that contain them. I am in awe. Really. That's quite a talent. Thereagain, Fred Uckwit, you might be just an over-obsessive idiot with too much time on your hands and no sense of proportion.
My money's on the latter. Or did I mean monies…?
—Daz
16 July 11
Or: Schrödinger's Volvo-driver
We all knew I'd get to what's become known as Elevatorgate eventually. I was aware of it in a small way almost from the start, but—rather naïely, as it turned out—thought that Ms Watson's point was so clear and obvious that hardly anyone could object to it. How wrong I was! Anyway, it's a simple point, but one that quite obviously, in view of the number of objectors to it, needs to be kept alive; though hopefully without the rancour that it's been creating over the past several weeks. So this is my small attempt to both keep the issue alive and present a possibly new way of approaching it.
For those who don't know about it, I've tried to present an argument that's self contained, and needs no knowledge of the particular shitstorm that prompted this article, so as not to have to rehash the entire sorry business over again.
For those who do, I've tried to concentrate on what I see as the most important aspect of it. It's mainly addressed to those who apparently don't get it, and I've tried to make an analogy which throws some light on the biggest misapprehension that I've seen. Namely that feminists are accusing all men of being potential rapists. Because, you know, we're really not. And those readers who already get it? Well, maybe you could find the analogy below, or a similar one, useful in explaining it to those who don't.
That said, let's be about it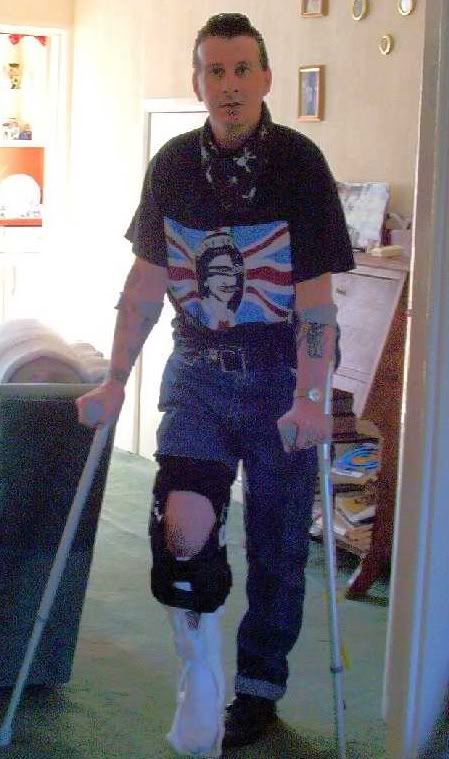 I ride a bike. Well, two actually; a pedal-bike and a motorbike. (No, not at the same time) As such I'm constantly, though usually at an unconscious level, aware that my life is in some danger, especially in traffic. A diesel spill on a corner—left by a truck with the fuel cap left off (more common than you might think)—could leave me sliding up the road on my face. A T-boning that might, for a car driver, end in nothing but some inconvenience and an insurance claim, could send me over the bars and head-first into the side of a vehicle. When I'm on the push-bike, a driver could pass me and make a sudden turn across my path. I've had many such near misses. Any cyclist or biker could tell you the same. I have a metal strip pinned permanently to my tibia; the result of a non-near-miss. It could have been worse. Much worse.
The above dramatic preamble is not an attempt to scare folks out of ever riding a bike, of either kind. What I'm attempting to show is that bikers and cyclists, like car-drivers but more so, have to be constantly alert to danger. This corner might be the one with the diesel spill (or the horse-crap, on country lanes. Helluva tyre-lubricant, that stuff), and not knowing how to get out of a skid before it happens is the best way to guarantee a nasty spill when (not if) it does happen. Likewise, we don't assume that every car-driver on the road is a blind moron with broken indicators (turn signals). We just learn to act as if they might be, and plan accordingly. If a car's waiting to pull out of a junction, our danger-awareness gets hyped up a notch. Not because 'that driver's a fool', but because 'I need to be ready to brake or swerve if he turns out to be a fool'. If he's waiting to join the opposing lane, and the traffic on the opposite side is heavier by a large margin than on this side, then the driver is more likely to be watching for a gap to pull into over there, and spending less effort watching for a gap to drive through on this side—so hype the awareness up two notches. He might be the best, most vigilant driver in the world, but I'm better off planning what to do if he's the worst and most careless.
Bikers get hurt and killed in collisions with cars.
Now consider a woman getting into a hotel lift at four o'clock in the morning. A man who she's never spoken to follows her in. The doors close. Her danger awareness goes up a notch. She's not scared out of her wits, just slightly more aware of possible dangers. She's in an enclosed space that has no exit with a strange man. It's not that she assumes he's going to rape her, mug her, grope her or even stare disconcertingly at her. Its just that she has to be aware that the possibility exists, if only at an unconscious level.
After a short silence the man makes a thinly veiled sexual proposition. Now she's in an enclosed space that has no exit with a strange man who she knows desires sex with her. Not only that, but he began the overture with the words "Don't take this the wrong way, but…", so he's clearly aware of at least some of the discomfort his proposition would cause her, yet chose to ignore it and give priority to his sexual desires. The danger-awareness goes up another notch or two. We're probably still not talking about anything most people would describe as 'scared' here. Just 'creepy'. In fact, I'd contend that 'creepy' is actually a synonym for 'mildly scary'.
It's not that women think every man they meet is a possible rapist, mugger, groper, et cetera. It's just that they have to be aware that some are; and just as a biker can't tell the good drivers from the bad, nor can a woman tell a good guy from a bad one. So she makes plans for what could happen, whilst hoping it never does. And a closed lift, a dark, empty street, a stairwell and other such places inherently offer less opportunities for escape or avoidance, whilst aiding any would-be attacker by being free of observers and possible interference. Most of the time the scariness will be slight enough that we could term it creepy or uncomfortable. It's there though, and unneeded heightening of it by making stupid passes in circumstances that are bound to fail ninety-nine point nine percent of the time anyway, is impolite at best, and downright scary at worst; if the woman is a survivor of previous attacks, say. Not to mention that cold-propositioning a woman who you've never even passed the time of day with is akin to saying "Hey, nice body. Can I shag it?" Kinda sexist, wouldn't you say?
Women get raped, mugged, groped and more. By men.
If the scene in the lift were like a possible bike accident, the car at the junction would have crept forward a foot or two and then stopped. No need for actual braking, but the fingers would be curled over the brake lever, and the muscles tensed in the right leg, ready to brake hard if things should get worse. Probably I'd be laying off the throttle a touch. Often, though I know, at the back of my head, that the distance between me and the junction is too damn short; like the closed lift, if the car does pull out, I won't have any time to do anything useful. Happens ten times a day, yet I still wish I could say to car drivers, "Please don't do that. It's not really getting you out of the junction any quicker, and it's a little bit scary." And most drivers, on hearing me, would think, "Yeah, I can see that. I'll try to be more thoughtful now that I know."
When the road safety issue comes up in conversations now and then, virtually all car drivers say something along the lines of "Yeah, I think like that too, but I can see why you do it more intensely. You have a greater risk of a bad outcome." More to the point, I've never met one who assumed I was insulting all car drivers, or them in particular, by acting as if any random driver just might be the one that pulls out in front of me. They call me sensible for it; and, indeed, would think me crazy for not thinking in such a way.
When the woman, who is well known for trying to promote feminist issues—including such displays of unthinking, often unconscious, sexism—and make people more aware of them, mentions the lift incident as an anecdote in a video blog, and mildly says "Uh, guys… don't do that," and mentions that it's a little creepy, seemingly half the male-and even some of the female-inhabitants of the internet go absolutely fucking librarian-poo, claiming she's calling all men rapists or would-be rapists. But, you know, being trapped in enclosed spaces, or alone in the dark, are fears common to both men and women. It's just that women have a greater risk of a bad outcome.
It's not rocket surgery. In fact it's mostly just plain old good manners. If you know something makes people uncomfortable, even if you don't 'get' why, don't do it.
Here's another interesting parallel.
How many times have you heard statements like "Well if you will ride a bike, you have to expect…"
How many times have you heard statements like "Well if she will dress like that…"
Can we all say "victim blaming"? All together now…
—Daz
18 July 11
Has everyone had the 'Money Bags' email again? It's been turning up in my email for several years—with various adjustments—and I decided it was time to take a look at it, rather than the usual "skim, spot 'ancient wisdom'-type statements, spot 'send this on to x-number of contacts', delete" operation that becomes second nature to anyone who has friends or relatives who partake in the joke/ancient wisdom/gooey quasi-religious advice, constant-email-recycling hobby.
What I noticed straight-off was that for all the multiple exclamation-marks, dodgy formatting and general 'hey, this is astounding!!!', all it actually contains is one falsity, one woo-woo claim to ancient wisdom, one slightly eye-catching bit of statistical trivia, and a bit of arithmetical trickery that takes about two seconds to spot. And normally that'd be it. The only times I ever get uptight about these things are when they're overtly racist, sexist, etc, or are trying to tell me I have to follow some out-dated bronze/iron age book of myths in order to save a soul that I'm damn sure I haven't got anyway—not to mention the fact that asking even the most accomplished theologian what, and where, it is, is likely to provoke a stream of pseudo-intellectual buzz-words, logic-twising and bullshit that explains nothing, but takes hours to unravel.
Sorry, I digress. This one is none of the above. It's just one of those trivial chain emails that've become a normal part of life for internet users. But sod it, I was looking for something to fill a few idle minutes and this'll do.
Here's the message in full:
---
Money bags
This year, July has 5 Fridays, 5 Saturdays and 5 Sundays. This happens once every 823 years. This is called money bags. Chinese legend says , forward this to your friends and money will arrive within 4 days. Based on Chinese Feng Shui. The one who does not forward.....so sadly will be without money.
Kinda interesting - read on!!!
This year we're going to experience four unusual dates.
1/1/11, 1/11/11, 11/1/11, 11/11/11 and that's not all…
Take the last two digits of the year in which you were born - now add the age you will be this year,
The results will be 111 for everyone in whole world. This is the year of the Money!!!
The proverb goes that if you send this to eight good friends money will appear in next four days as it is explained in Chinese FENGSHUI.
Those who don't continue the chain won't receive.......
Its a mystery, but its worth a try. good luck.
---
Let's break it down:
This year, July has 5 Fridays, 5 Saturdays and 5 Sundays. This happens once every 823 years.
Yes, July this year does indeed contain five Fridays, five Saturdays and five Sundays. The last time this happened was in 2005 and it'll happen again in July 2016. So that's, erm, eleven years. Still, only eight-hundred and twelve years out. And it's not unique to July, either.
As for the 'legend' claim, well the first three results-pages of a Google search turn up nothing but reiterations of this email for various months and years, and various sites debunking the claim. That and the fact that the Chinese have a very old tradition of advanced mathematics and astronomy/astrology, however, doth give me furiously to wonder how factual this claim is. Well, I tell a lie. I'm pretty damn sure, though I can't prove it, that this 'legend' was produced by a bored office-worker, sometime around 2010.
This year we're going to experience four unusual dates.

1/1/11, 1/11/11, 11/1/11, 11/11/11 and that's not all…
Well, fairly eye catching, although every date in a given year is equally unique. I'll stick with the American format it came in. For those who are interested, the British standard is to place the day first, so Jan 11th would be 11/01/11. We still get the same four striking dates, just not in the same order. This can lead to the occasional stumble when we notice a date like 01/23/11. The reverse is true for others seeing our dates, I should mimagine. (That's why I date my posts with the name of the month rather than the number, by the way. Less confusing for all!) Anyway, let's write 'em out in full shall we?
| | | | |
| --- | --- | --- | --- |
| Jan 1st 2011 | Jan 11th 2011 | Nov 1st 2011 | Nov 11th 2011 |
| 1/1/11 | 1/11/11 | 11/1/11 | 11/11/11 |
| 01/01/2011 | 01/11/2001 | 11/01/2011 | 11/11/2011 |
Oops. We introduced some zeroes and twos. Not quite so impressive now, eh? Yeah, I know. I'm a pedant. And a spoilsport.
The next bit, though, is just plain nuts. Or possibly salted. Either way, it's nuts.
Take the last two digits of the year in which you were born - now add the age you will be this year,

The results will be 111 for everyone in whole world. This is the year of the Money!!!
Well, yes. It works for every year, as long as the person doing it was born pre-2000. Next year, we could do the same trick and 'everybody in the whole world' will get 112. Mind you, there might be some puzzled ten-year-olds out there. Well, puzzled for about two seconds, anyway.
Imagine you start reading a novel, and the first page begins like this:
On his birthday in nineteen-forty-five, Klaus received a rifle of Boer war vintage, two cartridges and instructions to defend the capital of the Fatherland with his life. He'd never known life without the Nazis, having been born, after a distressing—for his mother; Klaus had no memory of it—two-day-long confinement, in nineteen-thirty-three. He didn't think much of his birthday present from them though. His friend Hans, to the contrary, was chock-full of glory and heroics; already imagining the investiture of his Iron Cross.
Hands up. How many took a moment out to work out that Klaus was only twelve? I would have, for sure.
How did you do it? You took 33 from 45 and the answer was his age. Looked at like that, it's not so suprising. 45−33=12 is just another way of saying 33+12=45, which is just what our trick email question asked us to do.
The only reason we get a hundred 'extra', early in the twenty-first century, is that most of us will have been born before the year 2000, but the sum we were asked to perform made us deliberately ignore the 'roll-over' from one century to the next. The quick, two-last-digits calculation only works when all the years in question are within the same century. I was born in '66, and 66+45=111. If we'd started with the full year, we'd have 1966+45=2011. And 1966+46=2012. Etc. And, obviously, 2011−1966=45. If you ever add your age at this year's birthday to the year of your birth and get a number that isn't the same as the present year, you've either made a mistake in your workings or you're a time-traveller…
Far from being amazing, and worthy of the rather disturbing three exclamation-marks, it turns out to be a bit of arithmetic that your average primary school child could do. Probably without even writing it down. What's truly amazing is that many apparently educated adults will see that 111 figure (and the 112 we'll get next year in the endlessly recycled 'money bags' email), and not see the trickery.
Damnit! I was determined I wasn't going to try to make a point. This was supposed to be an idle-away-the-time deconstruction of a daft but harmless chain email. It's true though. I just know that some people—people who've been through some of the most progressive and inclusive education systems the world has ever known—will read 'Chinese Feng Shui' and think, "Ooh, ancient wisdom," not stopping to wonder why on Earth ancient peoples, who had less data than us to go on, should have had better knowledge of the world than we have available at the mere click of the Google search-button. Nor do they do any favours to the memory of those ancient Chinese mathematicians and astronomers, who'd have likely wet 'emselves laughing at the absurdity of the '823 years' claim.
And that last bit about years and ages. Come on, people! A seven-year-old could deconstruct that in minutes. This is not advanced maths. It's not even advanced arithmetic!
—Daz, now faintly annoyed for no good reason.
P.S. Mental arithmetic: I'd be interested to know how others short-cut this, when they do it in their heads. I'd never noticed 'til I thought about it, but what I seem to do when the figures aren't easy multiples of five or ten, say, is something along the lines of:
Problem: 1943 to 2026;
100−40=60,−3=57. 57+20=77,+6=83. Check: 43+80=123,+3=126.
Which took way longer to write out than it did to perform, I should hasten to add.
And come to think of it, it seems that I automatically treat the next-lowest round-century—1900, in this case—as zero, and readjust afterwards. Oh, and when I added 43 to 80, what I seemed to do was hold the 3 in my head, and, knowing that 80 is 20 less than 100, I took 20 off 40, added 100 and then re-added the 3. Which seems very clumsy, when written out like that.
P.P.S. Oh Gawd. As I was proofreading, I got to the bit where I took 43 from 100, and mentally did something like, 43+7=50, then add the 7 to the obvious 50 difference between 50 and 100. It seems either I'm not even consistent in my methods or I have checks and checks of checks that I hadn't even noticed myself using.
P.P.P.S. Gadzooks! Yet another method: 1943 to 2043 is 100. The difference between 26 and 43 is 17. 17 from 100 gives 83.
This way, madness lies!
—Daz, now faintly worried for my sanity
10 Aug 11
[EDIT: I've added a section after the post-script, in response to an enquiry about some trigonometry I used to work out the length of a chord, in a minor aside when talking about the definition of a degree. This also led to me correcting the figure I used for the diameter of the circle; also in the aside. I could have made it a new post, but decided that, as it partly involved a correction of this one, it properly belonged here.
--Daz]
Had a conversation with a work-mate the other day, about our remembrances of school lessons. It seems we both left with much the same impression; that much of our learning was based more on effect than cause. (We're both of a similar age, and I have no idea if this is still the case in UK schools.) In history lessons, for instance, we learned a lot of events, much of them almost by rote, but very little about the causes of those events. We were just taught what happened. In science subjects we were taught a lot of laws and facts, but not the underlying causes. For instance we were taught that water expands and becomes less dense as it cools from 4° to 0°, but not why it does so. (Turns out it's to do with the crystalline structure of ice—it has gaps between the molecules. It also turns out that water's not quite as unique in this as we were led to believe. Gallium, bismuth, antimony and silicon behave in the same way as they freeze.)
Most damningly, though, neither of us were taught, or made to find, proofs of some quite basic mathematical concepts; which really is a pity, as some of them are easy enough to be set as an exercise for quite young students, and encouraging youngsters to look for proofs and evidence would really help them develop a sceptical, 'scientific' frame of mind, rather than accept 'facts' on authority, which would be of enormous benefit in later science lessons, as well as in 'real life'.
Anyway, when the conversation turned to maths, my workmate mentioned a few that had puzzled him slightly, and I, having been puzzled enough by the same things as a kid, had worked a couple out on my own (albeit with a hint or two from my maths teacher, when I explained my problem to him), so I managed to explain them to him. The first, involving opposite angles, I managed verbally; the other, involving the angles of a triangle, had to wait for a few hasty back-of-an-envelope diagrams in the canteen at lunch time—which gained a small audience of three or four others who'd apparently had much the same experience of school that we remembered (much to my embarrassment—I began to feel as if I were showing off, somehow!).
All of which got me thinking that maybe there'd be an audience for a blog post or two on the interesting bits of basic maths that we were never taught at school. So here's a couple I puzzled out for myself as a kid, possibly to be followed by more of the same if enough people find it interesting. I've tried to go back to basics as much as possible, so that even those for whom maths lessons were nothing more than a chance to catch forty winks should stand a chance of following it. Those who did stay awake may want to skip this next bit. :-)
First off, the terminology.
Imagine a circle with 360 equally spaced marks around the circumference. Now imagine a line is drawn from each mark to the centre. What you should now have in mind is a circle divided into 360 segments. The 'width' of each of those segments is 1 degree. (Usually written as 1°.)
What's important to note is that a degree isn't a measure of distance. Each segment gets wider, the further from the centre you travel. If the circle has a circumference (the distance around the edge of the circle) of 360 yards (it would, if you want to know, have a diameter of 114.57 yards, give or take a gnat's tadger), then a person could step one yard along the circumference and have moved one degree. Another person, who's unlucky enough to be on the edge of a circle of 360-mile circumference (114.57-mile diameter), would have to walk a mile to cover the same fraction of the circle's edge (assuming she doesn't cheat by cutting across in a straight line, of course, in which case she'd save a tad under 1⁄10 of a mile). If the two circles share a common centre then they will still both have moved one degree, but it's quite obvious that they won't have travelled the same distance.
So when an angle is said to be so-many degrees, what's being said is that if the point at which the two lines meet is considered to be the centre of a circle, then the segment (shaded in the diagram) of the circle between them covers so-many 360th-sized segments of the circle. A right-angle, for instance (by definition), sweeps out one quarter of a circle, so it's 360⁄4, or 90°. (If you're wondering, 360 isn't used because of some natural law, but merely because it's both convenient and established by long tradition. We could as easily divide the circle into, say, 500 segments, in which case a right-angle would be 500⁄4, or 125°. There is an advantage in using multiples of 60, though. 60 is divisible by 1, 2, 3, 4, 5, 6, 10, 12, 15, 20, 30 and itself, whereas 100 is divisible only by 1, 2, 4, 5, 10, 20, 25, 50 and itself. Worth remembering, the next time you run into someone passionate about decimal timekeeping.)
For those who are interested, the minute hand of a clock sweeps out a degree every ten seconds. To walk one degree along the Earth's equator, you'd have to travel a tad over sixty-nine statute miles. (A nautical mile, on the other hand, is defined as 1⁄60 of an equatorial degree, so you'd need to row a hand-blistering sixty of those.)
If we're talking about angles, we need a way of referring to them in such a way that we're all looking at the right place. What we do, as most will remember from school maths lessons, is give every point of interest, such as the ends of lines and places where lines meet or cross, a letter to identify it. We can then say that we're referring to line AB, or angle AEC (shaded) and we'll all know that we're all on the same page. AEC, for instance, is the angle formed at E by the lines AE and CE. I could even say 'Now draw a line CB,' and talk about angle EBC, and you'd all know what angle I meant. Or we could add a point, F, somewhere on the line ED, and talk about the angle AFE or BFD, and we'd still all know what was happening; though if many additions like that were planned, it might help to have put them in the diagram in the first place. Anyway, now you know the basics, here's the meat of the essay…
Opposite angles are always equal.
Well, I was taught that they're called opposite angles. You may know them as vertically opposite, or as vertical angles. Whatever they're called, though, what this means is that angles AEC and BED in the diagram will be the same as each other, and that CEB and AED will be the same as each other. We all learned that at school. I don't remember ever being taught the proof though, or—more importantly—being asked to prove it. Maybe my experience wasn't typical (though the fact that this essay was inspired by someone else not knowing does show that I'm not alone), but what a pity that is. Going beyond maths, this would have been an easy introduction to sceptical thinking; and it really is easy.
Right, here we go. Angle AEB is, obviously, 180°, being a straight line. Therefore angles AEC and CEB have to add up to 180.
If AEC is, for instance, 20°, then CEB has to be 160°.
CED is also a straight line, and therefore 180°, and as we already know that CEB is 160°, then BED has to be 20°, and following the same reasoning, DEA has to be 160°.
So it's really just a corollary of the obvious fact that adjacent angles on a line have to equal 180° when added together; which itself is important for our next point, that…
The internal angles of a triangle always add up to 180°.
I wasn't taught the proof of this one, either, but I remember puzzling it out because it troubled me. After all, if I walk around a triangle, starting in the middle of one of the lines, I'll, obviously, have turned through 360°, not 180°; or else I'd not arrive back at my starting point facing in the same direction I started out in. Hmm, maybe, I thought, it's the external angles I need to look at. Nope, a couple of minutes disproved that one; they always add to 900°. Well, so I thought. A minute or two more got me the answer, and it turns out it is the exterior angles, though not by the definition I was using, though I'd eventually figured it out using my own nomenclature anyway. Time for another diagram.
Turned out that what I'd been thinking of as the exterior angle—for instance the PacMan-like grey-shaded angle at ABD—isn't the exterior angle, contrary to what common sense might say. (I don't know what it is called, but it ain't the exterior angle.) The exterior angle is defined as that which is adjacent to the interior angle, if the line were extended beyond the length of the side, like the blue-shaded angle at EDA, which is adjacent to BDA. And when you stop to think of it, you'll see that if I was walking along the line, that's the angle I'd turn through, when making the corner. To turn through the grey-shaded angle, I'd have to have been walking backwards along AB, then have turned (the long way around) to walk forwards along BD. John Cleese might get away with it; the rest of us, I think not. Anyway, I want to avoid using Xs and Ys and such, so lets plug some numbers in.
As you can see, the interior angles do indeed add up to 180°. (Hurriedly checks arithmetic: Yep!) What about the exterior angles, though? Remembering that adjacent angles always add up to 180°:
FAB=110°
CBD=150°
EDA=100°
Add 'em together and they do, indeed, make 360°.
All of which proves that the interior angles can add up to 180° while the exterior angles add to 360°—which is nice for those of us who don't want to end up walking backwards round triangles, as well as being the problem I briefly wrestled with in my youth; doubtless while I was supposed to be doing actual homework—but doesn't prove that they have to add up to 180°. For that, we need to briefly consider some parallel lines.
It's a property of parallel lines that if they cross a third line, they both cross it at the same angle. (Indeed, if all you have is a protractor and a straight-edge, that's a perfect way to test whether two lines are parallel; draw a line across them and measure the angles they make with it.) Since we know that opposite angles are equal, and that the parallel lines make the same angles where they meet the bisecting line, we know that angles a, b, c and d are equal (and all the angles adjacent to those labelled are equal to each other). What does this have to do with triangles, though?
Here's a triangle drawn with the base parallel to a line which touches the apex, or, to put it another way which should ring bells; at which the two 'upright' lines would cross if they were extended. As with the previous example, we can now spot angles that are equal, which I've shaded for ease of discussion. The reds are equal to each other, as are the blues. It should be pretty obvious, also (but I'll point it out anyway, 'cause I'm kind like that), that the three angles at the top—one red, one blue, and the internal angle at the apex (shaded black)—add up to 180°.
Feel free to applaud…
It's not just triangles though, though I don't intend to try to prove this. All polygons' interior angles have a fixed number of degrees which their interior angles add up to:
Triangle: 180°
Quadrilateral: 360°
Pentagon: 540°
Hexagon: 720°
Heptagon: 900°
Octagon: 1080°
The rule for working it out is to count the number of sides (n), take 2 from that figure and multiply by 180°.
In short, that's; sum of interior angles=(n-2)×180°
If the shape is regular (all sides and angles are equal) and you want to know what each individual angle is, divide the result by the number of sides, so:
interior angle=(n-2)×180°⁄n
—Daz
P.S. Came across a feature of Google calculator when I tried to figure out how much distance the person cutting across the circle would save, in my 'introduction to degrees'. I bisected the triangle and prepared to use trig for the first time since I left school—but, hey, I knew all the angles, so it was just a case of finding a sine or cosine, followed by a bit of multiplication. As a check, I knew that the answer had to be less than 1, that being the long distance around the circumference; the chord had to be shorter than that. So imagine my surprise when, [i] the chord came out as seemingly longer than the curve, and [ii], using sin and cos gave different answers. Had I misremembered something as basic as sohcahtoa? Was I just going potty? Nope. Using Windows™ calculator got me a believable answer straight off, as well as providing the comforting sight of sin 0.5 being the same as cos 89.5! Turns out Google calculator assumes you mean radians, not degrees, unless you specify degrees in your query. Worth remembering, that.
Additional: This section added, 11 Aug 11.
Had an email asking if I could run through the trigonometry by which I worked out the length of the chord that our cheating walker could have followed, as the enquirer's remembrance of trigonometry was fuzzy. Since I'd deleted the notepad document I made the calculation on, I had to redo it; which led to the rather embarrassing finding that I'd made a couple of errors, based on a numerical typo. I've corrected the figure I gave in the text for the length of the diameter in light of this, but not the distance she saved in her walk, which turns out to be even less than the 1⁄10 of a mile that I gave.
I'd like to mention that I'm in no way trying to make myself appear some sort of maths wizard. All this is based on stuff I remember from school, and I barely scraped an O-Level. Where I seem to differ from many people I meet isn't in my small ability at basic maths, but more in the fact that, through reading popular-science and science fiction, I've had the occasional refresher, which has kept what little I do know from fading through disuse.
Anyway, here's how I worked it out (but—hopefully—correctly this time):
Let's start with the basics, then: How do we work out the radius of the circle? Well, first we work out the diameter, then halve that to get the radius. Pretty simple:
The length of the circumference equals pi times the diameter. (I'm using pi to the number of decimal places offered by Windows calculator, which is way more accurate than needed, but I'll be doing the same with all other numbers, then rounding off at the end, so it makes sense to do the same with pi.)
Or, in short, c=πd
To solve for d, we just divide both sides by π, so:
d=360⁄π
d=114.59155902616464175359630962821
Divide that by 2 to get the radius and:
r=57.2957795130823208767981548141. So that's the length of the two legs of the triangle in the diagram above (which, though you probably guessed this, is not meant to portray the angles accurately. A triangle sweeping out 1°, at that scale, would hardly look more than a line). What we want to know is what the length of the base (the chord that our intrepid walker would follow) is. This is where the trigonometry comes in.
From here on in, though I'll still be showing my working, I'm going to assume that anyone who's stuck with me will have at least a vague recollection of using sines, cosines and tangents, and is more in need of a memory-jog than a complete explanation of how to find the cosine or whatever of an angle, and such. Oh, and I'm old enough that when I learned trig at school, we looked them up in books of tables like this [pdf], which also contained tables of logarithms. Ah, you youngsters today, you don't know how easy you have it, etc etc etc…
Ahem. Where was I?
First we work out the angles of the triangle. We already know that BCA is 1°, and the other two are equal, since this is an isosceles, so they have to be 189⁄2=89.5°. Then we bisect the triangle with line CD, forming two right-angle triangles, so that we can apply some trigonometry to 'em.
Hands up, who remembers 'sohcahtoa'? Our maths teacher told us it was the name of a Red Indian chief, but I'm not too convinced of that. Still, it helped get it embedded in our young minds, so he achieved his purpose. It breaks into three syllables:
Sine = Opposite over Hypotenuse.
Cosine = Adjacent over Hypotenuse.
Tangent = Opposite over Adjacent.
All of which means that, given the length of two sides, we can work out either of the two unknown angles; or, more pertinently for us, given either non-right-angle and a side, we can work out any other side. We have a choice; we can either use the sine of BCD, 0.5°, or the cosine of DBC, 89.5°. Let's go with the former:
sin0.5=DB⁄BC
∴ DB=sin0.5×BC
BC=57.2957795130823208767981548141 miles
sin0.5=0.0087265354983739349648882139735844
∴ DB=0.49999365382791892382807286970969 miles
∴ AB=0.999987307655837847656145739418 miles.
Let's round that off to 0.99999 miles, shall we?
Or 1,759 yards, 29.6 inches.
She'd save a whopping great 6.4 inches! If she followed a chord between every degree-mark, she'd shave 64 yards off her 360-mile journey. Or she could book into in a nearby hotel, relax for a week and a half, sneak back to the starting point while no one's looking, and announce that she's knackered but proud…
—Daz
26 Aug 11
We've all seen this argument: 'Science can't define what 'good' is. Religion does define it. Therefore we need religion.' Well, as you may already suspect, I have several problems with that…
Firstly, let's look at how religion defines it. Is it a 'good' definition?
Religion doesn't, it seems to me, give any real definition of good. Something is good, says religion, because God says so. But that doesn't really answer the question of 'what is good'; it merely shifts it to a higher stage. (For now, let's ignore the fact that gods have never been shown to exist, and take that existence as a given.)
Is it good because God says so, or does God say so because it's good? If the latter, then God is not the all-powerful free agent he's usually made out to be; he's constricted to making only 'good' pronouncements. If the former, then invoking God does nothing to define good unless we presuppose that God would never lie or make self-serving pronouncements (and if you believe that, I urge you to check out the first four of the ten commandments).
Both ways of stating the problem, therefore, make presuppositions about the nature of God that aren't supported by fact, or even by religious text. More importantly, for this discussion, neither actually defines 'good'; rather they leave that definition for God to sort out—if he can—and tell us to do nothing but submit to his authority. Anyone wishing to do so, I'd advise reading the Old Testament before deciding. Don't know about you, but the actions of the god portrayed therein don't strike me as being particularly good.
Secondly, does the want of, or even the emotional need for, the existence of gods, mean that they exist? Don't be silly. Just because some people want a heavenly authority to tell them how to behave correctly doesn't magically conjour that being into existence, any more than my ardent wish for a Brough Superior will make one suddenly appear in my garage. (There wouldn't be room, anyway; Carl Sagan left his bloody dragon in there. I wouldn't mind, but it's getting hard to find enough princesses to feed the damn thing on.)
And thirdly, it should be bloody obvious that the whole thing is a false dichotomy. 'Good' is a word, and it's not a scientific principle but a philosophical one, so the people to ask aren't scientists, but linguists and philosophers. It's a concept, not an object, like politeness or egotism. And, to be honest, it's not even a difficult word to define.
An action which is morally good is one which promotes happiness and/or health. It's as simple as that. And the converse, a bad action, would be one which promoted unnecessary pain or other suffering. Of course, the application can be complicated, with much weighing up of relative outcomes—which is where the grey areas of 'better' and 'worse' slip into the discussion—but the basic principle is simple and clear-cut.
Clear-cut, that is, to those adults among us who've actually thought about it but not clear-cut, maybe, to those who prefer to stay in perpetual childhood, and want a father-figure to hand down rules so that they don't have to think for themselves on the consequences of their own actions.
—Daz
01 Sept 11
And Again, And Again, And Again…
I'd been thinking of doing something like this for a while, and, as Nat over at Forty Shades Of Grey recently accused me of reading her mind by making all her points before she could, I thought I'd turn the tables and do it just after she just had, thus showing that it seems to be a two-way street. And—imitation being the best form of flattery—I reorganised my sketchy notes on it and nicked her ordering and headings, too. :-)
It concerns, if you didn't click the link, the arguments from the opposition that we see over and over again. While some are actually meant seriously, the vast majority of times you see them, they're from trolls; people who aren't actually trying to make a serious case rather than just muddy the waters.
Of course, Nat did it from a feminist perspective, where I've gone for the gnu-atheist perspective, so there's bound to be some differences. Indeed, if there were none, I'd have just linked to her article. As it is, the two are similar enough to lead one to the conclusion that a conservative troll of little imagination is still a conservative troll of little imagination, no matter their specific area of conservatism, whilst being dissimilar enough for me to add something new.
[Added at the last minute. Talking of Forty Shades Of Grey, Facebook users really need to read Nat's latest post. Words fail me, they really do. On the lighter side, I have a substitute YouTube link.]
Right then, let's be about it…
1. "Prove it"
Most commonly, "Prove God doesn't exist."
Well, for starters, nobody needs to prove a negative. Do I need to prove that Santa Clause doesn't exist? How about Klingons or Harry Potter? See Bertrand Russell's Teapot and Carl Sagan's Dragon.
The onus is on the person asserting the existence of something (in this case, gods) to provide evidence for that existence.
(Thus far, the only 'evidence' I've ever seen has amounted to an argument from ignorance; "I can't see how such-and-such happened without intelligent input, therefore goddidit." Not only does this not prove anything, but the problem of how we get from 'a god did something' to 'this particular god, championed by this particular religion/sect did something' never seems to get addressed. But I digress.)
But if we have to play this game, maybe these people should be asked to 'prove' the non-existence of every other god bar the one they worship. Here's a handy list to start with, though it's by no means even close to being complete.
2. "Stop being so angry, sweary and rude"
Nat uses one word; 'No'. I prefer two; 'Fuck off'.
Really, address my arguments, not my tone. If you really can't see past a few rude, possibly insulting, words; if you're that prudish that a few pixels on a screen can make you all fainty and weepy, then stop reading and piss off and find a comments board with Mary Poppins nannyware that blocks such uncouthness. Which is related to…
3. "You're using ad hominem arguments, so I'm not going to listen to you!"
If I really do utter an ad hominem, please feel free to return the favour. Inventively, if possible. As Nat points out though, nearly all such accusations are based on a confusion between an insult and an ad hominem phallacy.
To make an ad hominem is to attack the person rather than the argument: "You're wrong about x because you're an egotistical, Bible bashing, fundy areswipe" is an ad hominem.
"You're wrong about x, and/therefore you're an egotistical, Bible bashing, fundy areswipe" is an insult. Okay, it might not further the conversation much, but it can be fun for its own sweet sake, and it's not a phallacy. Whether to explain why the arsewipe is wrong about x depends on whether Andrex-head seems capable of understanding the explanation, or—given that we're mostly talking about trolls here—whether it seems they'll actually bother to read the explanation.
Actually, feel free to return insults, too. I love the smell of a good internet slanging-match in the morning. Smells like… victory.
4. "What about men?"
Well, obviously, this one is more applicable to feminist topics than to purely atheistic ones. Given that religion is probably the most common cause and/or exacerbating factor in organised campaigns to restrict women's rights, though, those of you who don't regularly peruse the atheist, and especially the gnu atheist, web-o-sphere might be surprised how often feminism rears its interesting head. Nat covers two of the three topics that usually bring out the worst of the anti-feminist trolls on atheistic as well as feministic boards. The third is female genital mutilation, sometimes known as female circumcision.
For those who've never come across this particularly disgusting practice, here's a brief description from the World Health Organisation's page on it.
Female genital mutilation (FGM) comprises all procedures that involve partial or total removal of the external female genitalia, or other injury to the female genital organs for non-medical reasons.
And, from a bit further on:
FGM has no health benefits, and it harms girls and women in many ways. It involves removing and damaging healthy and normal female genital tissue, and interferes with the natural functions of girls' and women's bodies.
Immediate complications can include severe pain, shock, haemorrhage (bleeding), tetanus or sepsis (bacterial infection), urine retention, open sores in the genital region and injury to nearby genital tissue.
Suffice to say that nearly all FGM is performed for religious reasons. Anyway, back to the trolls…
You can almost guarantee that at some point, usually sooner rather than later, someone will say something like "But you're ignoring male circumcision!" Well, no. Male circumcision is frequently discussed, along with all other religion-based barbarities. It's just that today we're discussing FGM. And no, male circumcision is not 'just as bad', though any unneeded surgery (leaving aside cosmetic) is a bad thing, and performing such on people without their consent, or on minors who by definition can't give consent, should be classed as a human rights violation regardless of the shape of the genitalia involved. FGM, though, is much much worse and can have much worse consequences, and deserves special consideration.
And, as Nat also says, if you're that bothered about the subject you're talking about, whatever it is, do something about it. Constantly derailing discussions on separate but related issues won't get anything done about your particular hobbyhorse, and alienates people who would most likely have wanted to share ideas and resources, given the similarities between the two topics.
I'll skip Nat's next, as it isn't really applicable to atheists. (Please note, if anyone's comparing the two; this throws the numbering out of whack.) So we come to…
5. "She's an atheist, you should support/agree with her"
Sorry, no. Unlike the religious, who are taught from an early age to follow authority, us atheists don't think that because someone is right on some things, that they must be right on all things. This seems to be the commonest misconception of atheists by theists; that if they can prove Dawkins, Hitchens, whoever wrong on one thing, that, by extension, we'll cease to trust anything that person says. It just ain't so. Their words are read with as much of a critical eye as anyone else's, and each statement stands or falls on its own merits, not those in a previous chapter or book. Of course, someone who proves to be wrong most of the time is less likely to be listened to, and the opposite is also true, but scepticism is applied when we do listen, regardless of source.
(Personal note: As it happens, the 'celebrity atheist' I find myself agreeing with most often isn't one of the so-called four horsemen at all, but PZ Myers.)
6. "You're censoring free speech!"
Utter rubbish. Criticism and debate isn't censorship. And neither is it persecution, the other last-ditch objection used by theists who can't think of a better argument for telling atheists to shut up, or to not look sceptically at religious claims.
On the other hand, advocating the illegal removal or vandalism of atheist billboards, the removal of atheist books from bookshop shelves, the burning of a child's painting depicting human evolution (how fucking petty can people get?); these things most definitely are censorship.
7. "Here's a link to Answers In Genesis that shows you why you're wrong!"
Oh, just fuck off.
---
And now I'll round it out to ten with some of my own that, obviously, aren't applicable to feminism.
8. "Darwinism led to Nazism"
No, it didn't. The Nazis may have used a skewed version of the theory of evolution to justify some of their beliefs, but that didn't make them right. And also, so what? Germ theory isn't wrong because biological weapons have been developed. E=mc2 is still true, no matter how nasty nuclear weapons are. The consequences, whether real or imaginary, of an idea have no bearing on the factualness of that idea. And talking of Nazis; may's well get all the Godwins out of the way at one fell swoop…
9. "Hitler, Lenin and Mao were all atheists, and look at what they did!"
Well, Hitler may or may not have been a Catholic, but let's let that slide. Again, so what? Hitler, Lenin and the scary-looking bloke in Sparks all had moustaches. Does that mean all facial hair is evil? And, anyway, all three (Mao being the third, not the chap in Sparks. Ahem) acted on other ideologies than religion; their atheism had nothing to do with it, any more than Churchill's love of painting led him to oppose Hitler.
I could add, and indeed am doing so, that a better example would be modern Sweden; one of the most atheistic, according to polls, countries in the world. Please note: This does not prove that atheism necessarily leads to more civilised behaviour. It does, however, prove that atheism doesn't necessarily lead to uncivilised behaviour, contrary to the claims of most hard-line theists.
10. "Atheism and/or science is a religion/faith"
Atheism is nothing more than the statement that there is no evidence fore the existence of gods and other supernatural beings and realms. See №1 for more details.
Science is the very antithesis of faith, and I've never really worked out why fundies keep throwing this one at us. (Unless it's meant as a smear, but if so, why would they see accusations of religiosity as a smear?)
Science is not a belief system, but a method for taking personal bias and 'faith-based' ideas out of the loop. It's a way for individuals and groups to systematically check their ideas against the real world, and for making sure that others can check the results.
Contrast this to faith-based belief in ancient myths as codified by almost as ancient desert goat-herders…
Daz